WhisperKOOL Extreme 3500ti
Item#
Price: $

0.00
SALE $

0.00
Qty:

Price Match Guarantee
Cellar Size:

800 cu. ft.

dBA:Condenser

High: 62 Decibels
Med: 56 Decibels
Low: 51 Decibels

dBA:Evaporator

High: 61 Decibels
Med: 57 Decibels
Low: 51 Decibels

Dimensions:

14.25"w x 15.75"h x 28"d

Weight:

115lbs

Amps (starting/running):

32/9

Installation:

Through-the-Wall, Partially Ducted, Fully Ducted

Temp. Delta:

55°F temperature differential.

Thermostat:

Digital Control Display

Outside Venting:

Can be done if the outside temperature does not exceed 110° F, the external grille cover is highly recommended.
The Extreme Series offers 3-speed fans to truly put full control in your hands. With the system set in the Low setting, you can maintain a 55°F cellar at an ultra quiet 51 decibels for the 3500ti and 5000ti, or 57 decibels for the 8000ti. This fully featured line also includes WhisperKOOL's most advanced controller to keep all of the cellar vitals in check. Utilizing a series of monitoring probes inside the unit, the controller is able to ensure efficient high performance and long cooling unit life. Acceptable for mounting through exterior walls and can operate in a 110°F exhaust environments. Maintain 55°F and 50-70% relative humidity in a cellars up to 800cu. Ft. (3500ti), 1250 cu. Ft. (5000ti),or 2000 cu. Ft. (8000ti) in size.
Key Features :
Selectable 3-speed fans
Extreme Series Technology provides reliable starting and running performance, even under the most extreme outdoor conditions
Fits neatly between wall studs for quick and simple installation
Advanced electronic display
Liquid bottle probe
Superior Humidity control allows the system to manage the moisture for improved wine quality
Two year parts and labor warranty
Maintains 55 degrees and 50-70% humidity in cellars up to 800 cu ft.

Designed to blend

seamlessly

within cellar racking

Oversized coils
Quiet operation technology delivers sound levels as low as 51 db.
Durable finish
Optional Details
The Exterior Grille protects the exhaust side of the system from the weather elements when installed through an exterior wall.
The Exhaust Plenum allows the warm exhaust air to be ducted to another area. Ideal if the room adjacent to your cellar is not ideal for warm air to be exhausted into. This also allows you to duct the condenser supply air from an alternate location.
Videos
No videos available for this product
Wine Rack Concepts offers one of the largest, if not the largest, selections of wine storage options in the industry. Market demand, material, stain, and finish for those various product lines will have a direct impact on lead-times. As such we provide an estimated ship time when you are ready to place your order.
However, with that being said we are providing the following guideline of they yearly average for our various product lines.
Cable Racks: 1 Week
Glass and Cable: 1-2 Week
RevueVino: 1 Week
Whisperkool units: 1-2 Week
CellarPro units: 1-2 Week
Breezaire units: 1-2 Week
Wine Guardian units: 1-2 Week
WRR units: 1-2 Week
Classic Kits: 3-4 Week
Carpenter Kits: 3-4 Week
Deluxe Metal Racks: 3-4 Week
Modern Racks: 4-6 Week
Glass Entryways: 4-6 Week
Wooden Doors: 6-8 Week
Metal Doors: 8-10 Week
Vintner: 10-12 Week
Custom: 12-14 Week
Shipping Costs:
Some of our products have free shipping, while others have specific S&H charges. For those with free shipping note the Free Shipping applies only to the 48 contiguous states in the United States and APO addresses. Shipments to Alaska, Hawaii, island locations such as Martha's Vineyard that require a ferry to reach, and international shipments will most likely be subject to additional shipping. International shipment will most likely also incur duties and taxes.
Shipping Methods
Wine Rack Concepts uses various shipping methods to ensure that your racking and other purchases arrive to you when you need it, and free from damage. We utilize several different shipping carriers depending on your order size and where we are shipping your order to. Some of the carriers we choose to use are as follows, but not limited : Fed Ex, UPS, AIT, ABF, Seko, & Yellow. You will receive an email confirmation from us once your order has shipped from our facility advising you of the carrier and the tracking information, so you can plan for your delivery accordingly.
The following is for reference of larger orders or custom wine cellars:
Maximum Protextion of Your Order
Our custom cellars are boxed in corrugated with corner protectors, then stacked onto skids. The skids contain aprons around the perimeter as shown to minimize damage from fork lifts while being moved around shipping terminals and on/off the trucks. The vast majority of custom cellars ship via common carrier.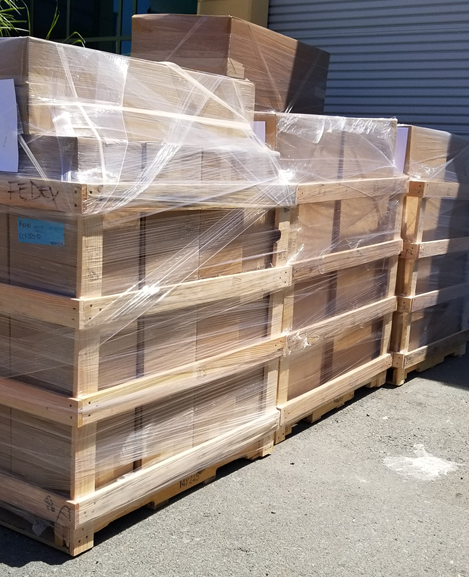 Basic Delivery
Means we ship via a 53' foot semi-trailer that will arrive at your residence and the driver will open the back of the truck and step aside for the assigned party on your end to unload it. If the basic service does not fit your needs we also have a host of additional services listed below that you can choose from for an additional cost.
Customer pickup
Means that the client will be contacted when their product is completed and then we will arrange a mutually agreeable date and time for the product to be picked up.
Third party shipping
Means the customer has their own shipping company and is going to arrange for delivery of the product to their final destination at their expense. Wine Rack Concepts will need a completely filled out Bill of Lading at least 24 hours prior to the scheduled pick up date of the product. Product will be loaded on skids and customer will be charged a skid fee of $75 per skid. Client will be notified when their order is complete and ready for pick up and then we will arrange for a mutually agreeable date and time for the product to be picked up.
Inside Delivery and lift gate service
Means that the carrier will remove the product off of their truck and deliver it into your garage or the first room that is past the threshold of your residence or place of business. Lift gate service is required for them to take the product off the truck due to the length and weight of our product.
Gated community
Needs to be marked if you live in one as there are only a limited number of specialty carriers who are willing to make deliveries to these communities due to the extra work involved in clearing a time for delivery and getting the clearance with security.
Small truck
Is required if a 53' long semi trailer will not be able to make a delivery to park in front of your home or in your driveway at the time of delivery.
Two man delivery service
Will be needed if we are shipping product this in excess of 70 pounds per box or if you have requested delivery of your product inside your home to a location other than the first room pass the threshold of your residence or place of business.
Turn Key Quote
A Turn Key quote will be required if delivery is to be made to the following
Condo
High Rise
Any residential area where trucking companies must use asn elevator
If the customer wants delivery past the threshold inside the residence.
If the drop off location is not directly off of the driveway or if the driveway is inaccessible.